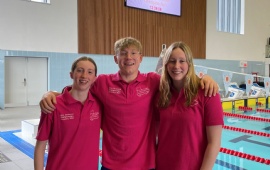 Weald Pupils compete at English Schools Inter-Divisional Swimming Championships and bring home 4 English Schools National Titles between them
Three Weald of Kent pupils were selected as part of the South East Schools representative team to compete last weekend in Coventry at the 72nd English Schools Inter-Divisional Championships. Each of the 8 school regions (divisions) in England sent a team of their best swimmers and raced against each other over 2 days in Coventry last weekend. Racing against some of the best swimmers in England as part of a representative schools team is a great honour and these 3 swimmers deserve recognition for their achievements. Junior swimmers are years 7/8, Inters are years 9/10 and Seniors are years 11, 12 and 13.
Backstroke specialist Jessica Gable (Y10) won the English Schools Intermediate Girls 200 m backstroke title for the 2nd year in a row and came 2nd in the Inters 100 m backstroke. She was also part of 3 relay teams which added 2 bronze and a silver medal to her medal haul.
Breaststroke specialist Matt Burrows (Y12) won Bronze medals in Open 50m and Senior 100m Breaststroke and a magnificent Silver in Senior 200m Breaststroke. He too featured in relays and also brought home a relay Silver medal.
Backstroke specialist Caitlin Ebbage (Y13) was racing in her 5th ESSA Championships. She was appointed by the South East team staff as the Female and Overall South East Schools Team Captain for this competition for the 2nd year in a row. Caitlin raced in all 3 backstroke events. She won Silver in Senior 200m Backstroke and won 2 Senior English Schools titles in the Open 50m and Senior 100m Backstroke. She also was part of the Senior girls Medley relay team that won Gold on Saturday. She ends her English Schools journey having been selected to represent the South East in every year the competition has been held whilst she has been at Weald and still holds the English Schools Junior Girls 100m Backstroke record which she set back in 2018.
These 3 Weald swimmers brought home a total of 4 Gold, 5 Silver and 4 Bronze medals from these English Schools Championships!