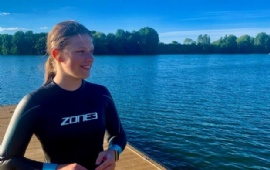 As part of her Duke of Edinburgh Bronze Award, Emily in Year 9 set a goal to swim 30km in open water in 3 months in order highlight how swimming helps to improve mental health and shine a light on the issues of young people, while also raising donations for Young Minds Trust.
She has surpassed her target and has so far swum 32km while raising £409 in donations. She has never been part of a swimming club and had only swum a handful of times in the last few years, so this was a huge challenge for her but she has swum the equivalent of crossing the English Channel (or 1,300 lengths of a pool).
Well done Emily for taking on and completing such an incredible mission for such a worthy cause.