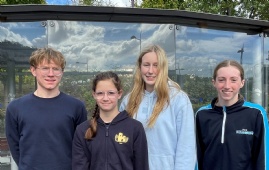 At the beginning of October four students competed at the Swim England National Inter-Counties Championships in Sheffield. The competition involved 37 Counties racing against each other, 20 counties in Division 1 and 17 in Division 2. The 4 swimmers were selected to be part of the Kent team. Well done to Amalie in Year 9, Jessica in Year 10, Matt in Year 12 and Caitlin in Year 13 on being selected as the fastest Kent swimmers in their joint age groups.
Caitlin also had the honour of being named as the Kent Team Female Captain and took part in the Opening Ceremony/ Parade.
The Kent team swam brilliantly and they won the Championship for the first time ever. Well done to these Weald swimmers for creating history!