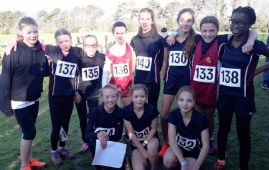 Well done to Weald runners (pictured above) who took part in the Kent Schools Cross Country Championships at the weekend.
Excellent performances resulted in five team medals (four gold, one silver), making Weald girls the most successful district representatives on the day - among the dozen or so who were competing at The Duke of York's Royal Military School in Dover.
Year 7 girls did especially well and, thanks to their showing at the event, several individual runners will now have the opportunity to compete for the county.