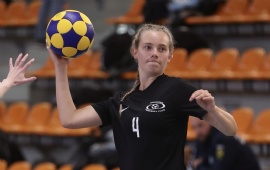 Hanna in Year 12 recently competed in the Korfball European Championships in Poland. Her team won every single game and have now qualified to go through to round 2 in the Czech Republic mid-November. Winning this tournament means that her team are now down to the top 12 teams in Europe.
Not so many people know what korfball is however in summary it is a mixed gender (4 girl and 4 boy) team sport, played in more than 70 countries worldwide – a little like netball and a little like basketball.
Hanna has previously represented England and last month played for her club in the European Championships. We wish both Hanna and her team the greatest success.