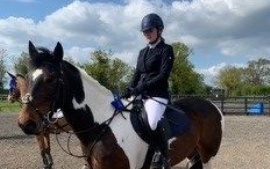 Congratulations to Daisy who recently competed in the Kent British Showjumping Junior Academy competition in the Area 40 BS Junior Academy team event in Essex. Daisy's team came 2nd in the Intermediate COH 90 and she was 5th individually, riding her horse Ivor's Boy.
Daisy has also qualified for British Eventing National Championship riding her horse Antonius by winning her class at the Horseheath Horse Trials in Cambridgeshire. She has been working towards this since last September, with very a commendable 2nd, 3rd and 5th placing (which qualified her for the Area festival) but she had to gain a win to qualify for the Nationals. This has required a lot of work, dedication and determination.
This National Championship is being held on 7-9 June, as part of the prestigious Bramham International Horse Trials – we look forward to finding out how Daisy gets on.