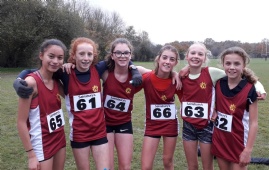 A huge congratulations to both the Junior and Inter students who qualified for the regional round of the Schools Cup.
With cold and wet conditions all morning both teams put in exceptional performances to narrowly miss selection for the National Finals. The Inter team finished in 7th place overall, with strong performances from Beatrice and Annabelle in 15th and 16th. Brighton College went on to take the overall win in the Inter section. The Junior team finished a very hard fought 4th place with outstanding performances from Neve and Ruby in 9th and 10th position. Guildford High School went on to take the overall win in the Junior section.
A superb team effort from all, well done!