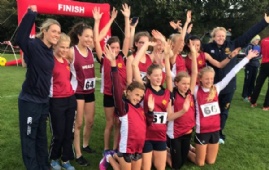 Congratulations to both the Junior and Inter Girls Cross Country Teams for their strong performances on Tuesday in the first round of the Schools' Cup.
Both teams negotiated the testing course at Sevenoaks School, with undulating ground and wooded sections. The Junior Girls Team finished an incredible second place, only beaten by 3 points from Sevenoaks Schools. They have now qualified for the Regional Finals to be held later this month. Congratulations to the Inter Girls, who finished a strong fourth place, despite having an incomplete team. A special mention to Neve (3rd), Ruby (6th), Emily (8th) and Giselle (9th) for their impressive top 10 performances.
Well done to all who competed and supported on the day.