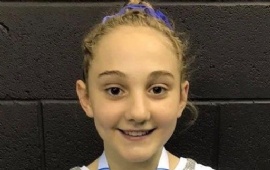 Holly took part in the 2019 Trampoline, Tumbling and DMT British Championships on 28 and 29 September at Arena Birmingham. This was the first time she had qualified for both Trampoline and DMT enabling her to showcase her abilities in both disciplines.
Holly completed both routines in the preliminary round of the trampoline competition, however, a small error meant that she finished in 9th place and just missed out on a place in the final.
In the DMT competition, Holly comfortably qualified a place into the final in 5th place, with all the scores being relatively close. In the final, Holly kept her cool and after completing four high-quality and consistent passes, she finished in third place, awarding her the bronze medal.
We are very proud of Holly's achievements and it goes to show that hard work and dedication leads to success and rewarding moments.
Watch this space as Holly heads out to Tokyo in December to represent Great Britain in DMT for the World Age Group Games. Holly will be up against the best in the world for her age group! Congratulations on this fantastic achievement Holly and we wish you all the best!