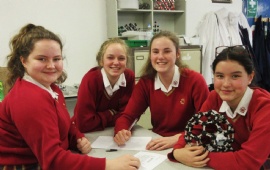 Four Weald students are waiting to find out if they've got through to the next round of a national chemistry competition
The Year 10 hopefuls faced an hour of taxing questions, working together as a team for the first round of Royal Society of Chemistry's "Top of the Bench".
Round two is early in the New Year at a Kent school.
Top of the Bench is one of the Royal Society's longest-running activities for school children and has been going for more than 20 years.
Each year, teams of four 13 to 16 year olds compete for the coveted top spot. The competition starts with regional heats, which are organised by our Local Sections and usually take place in the autumn term. Each Local Section committee decides the format of the regional heat, and they take on various forms, including quizzes, presentations and practical experiments. The regional winners then have a chance to compete against each other at the UK final in spring.
Weald students taking part (pictured above) are: Alice Boyle, Annabelle Hale, Amber Masson and Charlotte Morrish.