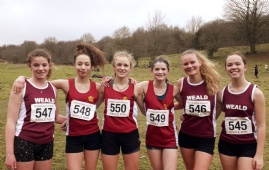 Hats off to our senior cross country team who have claimed third spot in the 24th Girls' Knole Run.
Thought to be the highest-ever finish for Weald of Kent Grammar School, the event took place last weekend at Knole Park in Sevenoaks.
They were up against teams from London and all over the south-east and deserve a huge congratulations, especially as conditions on the day were so cold, windy and muddy.
The course of 3.1 miles (5km) is run over varied terrain in Knole Park. Runners must be in full time secondary education on the date of the race and should be in Year 10 or above.
Standout team member performances included: Stephanie, Beatrice, Giselle and Annabelle. Their performances helped the school earn a deserved third place with a total points score of 109.
Our sole representative in the 46th Senior Boys Knole Run was Fraser Gordon. He ran a strong and composed race to finish a very impressive 4th out of 220 runners.
Weald of Kent's Deputy Head of Physical Education, Ashley Gibson, said: "It was tremendous achievement for our runners on the day. A special thank you to all the parents and carers for your help and support on the day. It is always greatly appreciated."