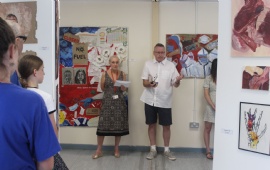 After three years, the Weald Art department were delighted to once again have an exhibition celebrating all the work our GCSE and A level students have produced over the year.
At our Tonbridge site, we had Year 11, 12 and 13 work on display and at our Sevenoaks site we showed work from our first 11 GCSE class. It was lovely to see so many students, parents and friends come and celebrate the work produced.
At Tonbridge the Clive Robinson Art Award was given to Emma in Year 13 and the Best GCSE Student was given to Gabriella in Year 11
At Sevenoaks the Best GCSE Student was awarded to Theo in Year 11.